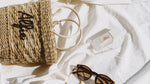 With wellness lovers mixing collagen into smoothies as commonly as tequila is poured into margaritas, it's safe to say collagen has hit cult mainstream status.
As the hottest new protein supplement going around, collagen has fast gained a rep with the celebrity circle, with Jennifer Anniston, Halle Berry, and Kourtney Kardashian all promoting it as the liquid gold feeding their golden glows.
But superfood hype aside, is drinking collagen really the best way to absorb the potent elixir and obtain that year round 'youthful glow?'
With concentrated skin serums able to penetrate the face and skin directly, absorbing collagen's vital nutrients directly, it's a questionable debate.
And according to Harvard Medical School's dermatology department, serums deserve their fair share of praise. 
"As highly concentrated formulations that sink into the skin quickly, serums are able to deliver an intensive dose of ingredients that address common skin complaints," says Dr Abigail Waldman, dermatology expert at Harvard Medical School.
Outside the direct dose, Waldman says they're also "a great way to get extra anti-aging effects more than your typical moisturizer and sunscreen" and believes any containing hyaluronic acid, collagen peptides, or stem cells are the best way to boost supple skin.
So what about drinkable collagen? Well, according to leading London based dermatologist Dr. Anjali Mahato, the verdict on whether collagen drinks can be absorbed effectively is still to be determined.
'Collagen is a protein which is broken down in the gut during the digestive process into smaller molecules, such as peptides and subsequently amino-acids,' says Dr. Mahto. 'There is little evidence that ingesting whole collagen will survive digestion and then travel in the bloodstream to the skin in high enough quantities to make any meaningful change to the skin's structure or function' (as told to Elle).
What can we take from this? Collagen serums are where it's at! 

Beyond faster absorption, the benefits of collagen skin serums are endless. Read on for our list below….
The Benefits Of Marine Collagen Skin Serums
As collagen is the most abundant protein in our bodies, it's vital for our internal and external wellbeing. But, as it depletes over time, regular collagen supplementation helps to slow down the aging process.
Here are a few other key reasons to get collagen serum savvy...
It acts as a supportive foundation for strong and flexible bones and skin.
It improves sagging skin by promoting natural collagen production.
It helps minimize the loss of elasticity and keep skin looking supple and smooth.
The Serums We Love:
Why we love it:
As a doctor-formulated serum that contains marine collagen, Spilanthol (helps reduce fine lines), sacha inchi (a plant that promotes longevity, skin rejuvenation and contains essential vitamins, omegas, and amino acids) it not only plumps and firms the skin but is non-toxic, cruelty-free, paraben-free and has no artificial colors or aromas.
Note: For effective results, apply once or twice daily to keep collagen production levels up and according to science, you can expect visible results within one month. But for the Alfie serum, expect to see even quicker results within 14 days. This is due to the transdermal technology that each serum is made with — meaning faster results.