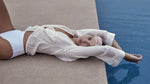 Moisturiser as a stand-alone skincare regime is so tired (and it's likely your skin knows it too). It's time to get to know the new skin saviours set to spice up your basic skin care routine and plump, firm, boost and hydrate tired, stressed or ageing skin.

Meet Sacha Inchi, Hyaluronic Acid and Collagen, the skin care superheroes that not only belong in your beauty regime but deserve their cult beauty status.

Auspicious as they sound (no hyaluronic acid will not burn your skin), these cult skin care products are making waves around the wellness world thanks to their powerful anti-ageing ability to transform tired skin into youthful, luminous and fresh out of high school plump.

So what are they? Learn more about each specific skin care ingredient and how to use it to transform your skin into it's most plump, firm, glowing (and let's not forget hydrated) self yet.
The Superhero Skincare Ingredients of 2019:
1. Sacha Inchi
What is it?
Sachi Inchi is the exotic friend you never knew you had. A plant native to tropical South America and Southeast Asia, it's considered a natural source of vitality, endurance and longevity used by ancient Incan women to revitalize and rejuvenate their skin. The Sacha Inchi plant contains seeds with vital nutrients such as vitamins, omegas and amino acids alongside peptides which work to regulate the balance of collagen and elastin and reduce sagging in the face.

How do you use it?
Sacha Inchi is best served in a combination serum and applied daily across all areas of ageing including face, forehead, chin and neck. Massage the serum lightly into the skin and allow to air dry. Apply sacha inchi once or twice daily for best results.
Where can I get it?
We recommend the They Call Her Alfie's 'Plumping Collagen Face Serum' which contains skincare heroes sacha inchi alongside other cult skincare ingredients
2. Hyaluronic Acid
What is it?
Think superhero and hyaluronic acid is not far off. Hyaluronic acid not only favours keeping your skin supple but works as a filler and a facilitator of nutrient exchange, providing a framework and cushioning to hold vital proteins and skin cells and help it hold in moisture — hello hydration.

How do you use it?
Source it either as a stand-alone product on its own or to heighten its superhero powers, it's best combined with other rockstar ingredients such as CBD oil (to reduce tension and ageing lines in the skin) and OrchiStem (active plant-based stem cells that help boost skin cell growth).
Where can I get it?
We recommend the They Call Her Alfie's 'Firming Face Serum' that contains the key skin care nutrients above including hyaluronic acid, and OrchiStem.

3. Marine Collagen
What is it?
The staple food group for skin, marine collagen works as a building block for growing strong, flexible, durable connective tissues, bones and of course skin. By promoting natural collagen production in the skin, it helps improve sagging skin, minimises loss of elasticity and supports the skin to become smoother, suppler and more hydrated - think total babyface factor.

How do you use it?
Best served in a serum with ideally a side of spilanthes acmella flower (to relax lines) and sacha inchi (for elasticity), simply massage the collagen serum into skin and desired areas such as face, forehead, chin, neck and decolletage and allow to air dry. Use as often as you need a little 'oomph.'
Where can I get it?
We recommend the They Call Her Alfie's Plumping Collagen Face Serum that contains the staple three — marine collagen, spilanthes acmella flower, sacha inchi to help restructure, plump, firm and strengthen skin.